Iced Cappuccino/Hershey Mix
Our most popular and versatile machine will be needed to serve our Iced Cappuccino slush products.  We have both a two-barrel and a three-barrel version of our slush machine also known as an Elmeco.  These machines have relatively basic power requirements which make them an ideal option for any store in the region.  Our two-barrel machine requires 120v 15amp (a standard wall plug) and our three barrel requires 20amps in order to work.  Then it's just a matter of mixing our powders with water, chilling, and serving!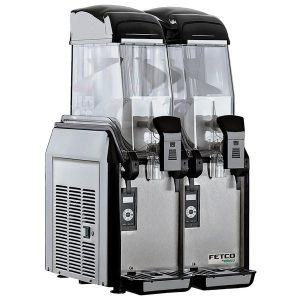 We have a great selection of ice cappuccino and fruit smoothie flavours to suit the slushie needs of your customers.  Both are easy to make by simply mixing the powder and water and adding them to the machine.  Job is done!  Here is a list of the slush flavours we have on offer for both.
French Vanilla
Mocha Ice Cappuccino 
Hershey Milk Chocolate
Hershey Mocha
Hershey Cookies n Cream
We have all the cups, lids, and straws you will need for your serving needs.  We have PET clear cups which are heavy-duty cups allowing for better use and handling by the consumer.  Options available are: